We specialise in online, cloud based bookkeeping
There is no substitute for quality of performance and experience, you can select MYOB with confidence. Incorporated in 1991, MYOB has over 25 years' experience in establishing strong industry relationships and have just committed over $32.7M to research and development. MYOB intend to continue growing this figure to build out MYOB's vision of the 'connected practice' and to ensure the solutions are ahead of any industry and technological advancements.
Everything you need to run your business beautifully
Smart Bills - Upload every single one of your bills
A secure location to store every expense, past and present.
Take back your time
MYOB is the fast and easy way to manage your cash flow and ATO compliance requirements. Includes time saving features to help take care of the day-to-day bookwork.
Painless payroll and timesheets
Confidently handle PAYG, state-based payroll tax, superannuation and leave, even if you work from timesheets.
Easy project and job tracking
Keep an eye on how much time and money has been spent and how it stacks up against your plan.
Flexible & diverse product range
Tailored solutions for each stage of your business growth, giving you everything you need to keep your finances on track.
Business insights
Use Business Insights to analyse key financial information using a range of interactive tables and graphs.  You can use it to analyse your accounts, profit and loss, and the money that customers owe you.
Take control of your stock
MYOB's inventory management software is so advanced, you'll always be able to track what you buy and sell.
Tax time made easy
Fast and easy tax updates ensure you're always up-to-date. Paying super and staying on top of ATO SuperStream requirements is a breeze.
Add-ons
A huge collection of categorised Add-On applications to make it easier for you to discover suitable add-ons specific to your industry. MYOB mobile apps provide on-the-go technology, making it easier to keep your records up to date.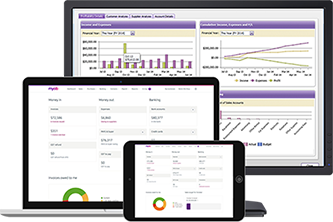 We specialise in MYOB and Xero cloud accounting software.  If you are worried about the process of switching from your current accounting software, don't be! We will take care of all this for you, from setup through to training and ongoing support.
Contact us, request a free consultation session or connect with us on Facebook or LinkedIn to learn more about MYOB or Xero.